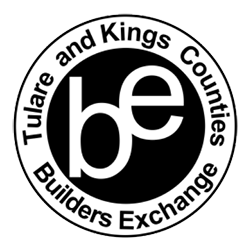 Tulare-Kings Counties Builders' Exchange, Inc.
Serving Builders Since 1948
Helping Construction Industry Businesses Connect, Learn & Grow
---
The construction industry has always been, and will always be, an industry built on relationships. Here at the TKCBE we provide our members with valuable connections that open the door for lucrative opportunities, along with powerful resources for maximizing potential and helping their business grow.
Contact Us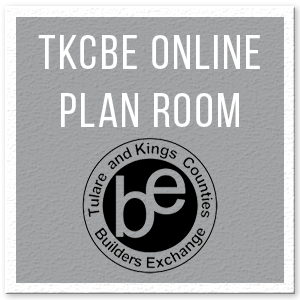 Why Join TKCBE?
---
Find and bid on profit-boosting projects via our exclusive
Online Plan Room
Cost-saving group health insurance and workers compensation programs
Extensive education & training opportunities
Industry-leading safety seminars and training sessions
Stay ahead of the curve with timely construction industry and legislative
news & updates
Connections with over 300 area construction businesses and professionals
Get An Application
Online Plan Room

Your secret weapon for finding, bidding, and winning potentially lucrative projects, TKCBE members have direct access to the Online Plan Room where they can research and bid on hundreds of projects throughout California. Recently updated to make this service easier, stronger and better, members have the ability to narrow searches by county, store bidding history, save projects, and mobile access anytime, anywhere. Over the years, thousands of projects have been bid on––and won––by our members.

Employee Labor Relations

TKCBE and the Small Business Development Center sponsor monthly seminars focused on Employee Labor Relations topics. Seminars are open to all employers, feature guest speakers from Pacific Employers, and are held in our training center at 10 a.m. on the third Thursday every month, except August and December.

Education & Training

TKCBE offers training programs and informational seminars throughout the year specially designed for the construction industry. Guest experts and industry professionals are also often invited to add their expertise to classes that address subjects such as: Safety Management, Personal Safety & Site Control, Flagger & Traffic Control, Defensive Driving, Mobile Equipment, and First Aid/CPR.

Strive for Excellence

We are always on the lookout for ways to better serve our members and their customers. Please check back here on our website, and all member communications , for the latest news and special announcements. Questions? Ideas? Call us at (559) 732-4568 or email info@tkcbe.com. We're here to help!

Company Name – Placeholder (Sample)
Address
Phone
Website
Company Name – Placeholder (Sample)
Address
Phone
Website
Home