Plan Room Guidelines
In order to best serve the interest of all members, the Tulare-Kings Counties Builders' Exchange has adopted the following guidelines which all members are requested and expected to observe:
Plans may be checked out after 3:30 pm and returned to the Plan Room by 8:30 am the following day.
Plan Room hours are 8:00 am to 5:00 pm Monday through Friday, excluding holidays.
Where there are two or more sets of plans, members may reserve one set for a period of 24 hours. Reservations are accepted by phone.
Handle plans and specifications carefully to prevent mutilation.
Plans are not to be marked indelibly while estimating. Any marks must be removed; plans and specifications must be left clean and fully legible.
Return Plans and specifications to plan counter when you are finished. Use only one set of plans and specifications at a time.
Do not leave plans and specifications idle during lunch hour.
Visit the TKCBE Online Plan Room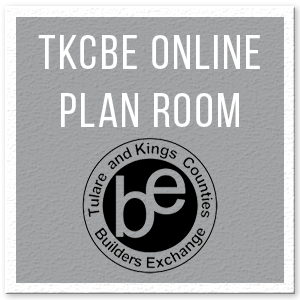 Not A Member of TKCBE Yet?
GET AN APPLICATION
Online Plan Room